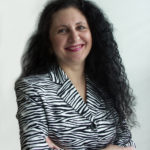 Maria Teresa De Donato, Ph. D.
An Educator and a great Motivator, Maria Teresa De Donato, Ph.D. has been coaching and inspiring people of all ages, ethnicities and walks of life along with businesses and organizations, both profits and not-for-profits, for more than 30 years both in Europe and in America.
An active listener and an attentive observer of the human nature, she is fascinated by the relation between perception and belief system and their consequent impact on people's lives at all levels. A Certified and Registered Traditional Naturopath, Classical Homeopath and Life Strategist, she holds a Doctoral, a Master and a Bachelor degree in Holistic Health; Certifications in Naturopathy, Homeopathy, Nutrition, and Herbalism; a Bachelor degree in Business Administration and Certifications in Conflict Analysis and in Negotiation & Conflict Management.
Extremely versatile and with an inquisitive and highly intuitive mind she always focuses on the identification of the root cause of a problem. An active Member of several professional organizations she is is also a passionate Blogger and the Author of several books.
Whatever your problem, be it either health-related or else, she will create a customized program to help you renew your old way of thinking, through which you might have been sabotaging yourself without even realizing it, and finally, by reaching your full potential and ultimate goals, live a healthier, more balanced and rewarding life as you deserve.  
Thanks to her great love and passion for both study and research you can always be sure that she will recommend you the very best natural remedies and modalities to help you walk your path to optimum health whatever your problem or concern may be, including obesity, heart disease, diabetes, cancer, hypertension, allergies, asthma, arthritis, menopausal symptoms, stress, acute and chronic health issues, just to name a few.  
Acute are problems you have that may start all of a sudden and usually last one day to a month (like flu, cold, cramps, cough, etc.).  Some of them may be caused by viruses, disappear by themselves, or taken care of either with antibiotics (as conventional/allopathic medicine does) or with more natural and less aggressive remedies (such as herbalism and homeopathy)  
Chronic are problems that last two months or more (like arthritis, diabetes, migraines, depression, eczema, etc.) and may be caused by several factors including family history and environment.  Though there is no guarantee that those sorts of health issues will disappear completely, most of them, if well managed, may lead to a normal life almost symptoms free through a change in eating and lifestyle habits.